All About the Books!
Bring on the Bookjoy! At the Fair, there's a book for every reader. But these titles will be winning over the most readers at Fairs across the country! Check out the top-10 books trending at Scholastic Book Fairs.
Want a full sneak peek? See our junior and senior highlights flyers to preview what's coming to your Fair.

Highlighted Titles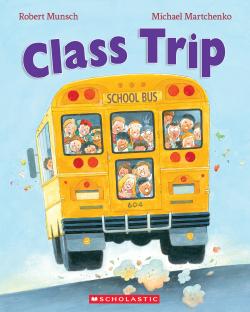 Picture Book
Grades K – 3
Class Trip
Written by
Robert Munsch
Illustrated by
Michael Martchenko
Hijinks and silliness abound during a class trip to the museum in this latest story by Canada's best-loved and bestselling picture book duo, Robert Munsch and Michael Martchenko.
Stephanie and Sean's class goes on a trip to the museum where they get to watch baby chickens hatching. That gets them wondering what might be hatching out of the bigger eggs nearby.
They ask the museum guide to show them the biggest egg in the museum. When they find it, they see that whatever was inside has already hatched, so the kids decide to have a little fun and hatch a scheme to prank the rest of the class.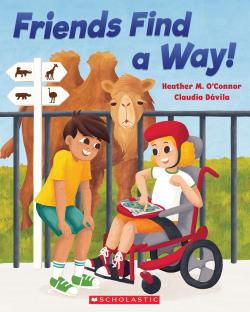 Picture Book
Grades K – 1
Friends Find a Way
Written by
Heather M. O'Connor
Illustrated by
Claudia Dávila
Suze and Tyson are back in this heartwarming follow-up to Fast Friends.
Suze and Tyson's class is going on a field trip to the zoo, and the two fast friends are excited to see all the animals, especially the cheetahs. But when the two get separated from their class, Tyson doesn't know which way to go. But Suze does. Can she lead the way back?
A wonderful, energetic story about friendship and inclusion, which also introduces kids to concepts of non-verbal communication and reading body language.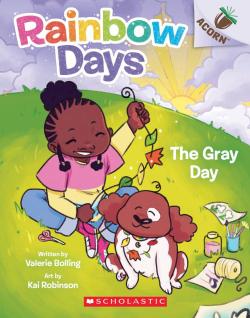 Early Reader
Grades K – 2
Rainbow Days #1: The Gray Day
Written by
Valerie Bolling
Illustrated by
Kai Robinson
With Kai Robinson's vibrant, full-colour artwork and Valerie Bolling's engaging, easy-to-read text throughout, this sparkly series is perfect for beginning readers!
Zoya loves to make art with her puppy, Coco. It is a perfect day to paint outside – until it begins to rain! Zoya and Coco rush back inside with their art supplies. But together – and with a splash of glitter – they find creative ways to brighten the gray day.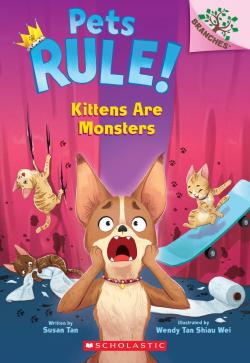 Illustrated Chapter Book
Grades 1 – 3
Pets Rule #3: Kittens Are Monsters
Written by
Susan Tan
Illustrated by
Wendy Tan Shiau Wei
Ember and the other pets face their hardest challenge yet… BABYSITTING!
A mysterious cat visits Ember in the middle of the night. She tells him that she will give him an army if he can complete a simple task: babysit her kittens for three days. Ember is eager to complete the task and be one step closer to his goal of world domination. But babysitting is no walk in the dog park, and it'll take all paws on deck to keep the kittens safe and make sure the humans don't find out.
With laugh-out-loud humour, engaging artwork on every page, and nonstop action that will have readers rushing to turn the pages, Pets Rule is the just-right series for any emerging reader!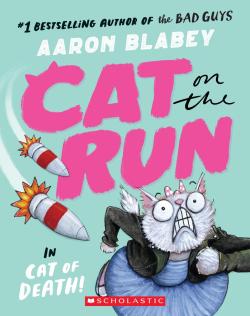 Comic Chapter Book
Grades 2 – 5
Cat on the Run #1: Cat on the Run in Cat of Death!
Written and Illustrated by
Aaron Blabey
From the New York Times bestselling author of The Bad Guys comes another hilarious illustrated series starring a pampered cat who is way tougher than anyone realizes.
What happens when the world's biggest cat video star gets accused of a crime she didn't commit? She becomes a cat on the run, that's what. But how do you avoid capture and prove your innocence when you are the most famous feline on the planet? Well, it ain't easy.
Follow Princess Beautiful – for that is her name – as she goes from meme megastar #1 to public enemy #1 and cheer her on as she fights to clear her name.
Illustrated Chapter Book
Grades 2 – 5
Diary of a Roblox Pro #3: Obby Challenge
Written by
Ari Avatar
Diary of a Roblox Pro is a must-read for any kid who loves to play Roblox!
It's time to escape the obby! Ari's best friend's dad is a professional obby builder. He even constructs obbies to help train the Roblox army. Ari and his friends are excited to visit the latest obby creation but they are absolutely forbidden to touch anything. Well, Ari and his friends just can't help themselves! When they find themselves trapped in the new obby course they must find a way to escape or risk losing it all.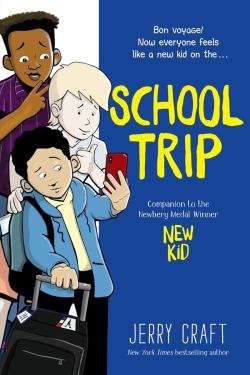 Graphic Novel
Grades 4 – 6
School Trip
Written and Illustrated by
Jerry Craft
Will Jordan and his friends embrace being exposed to a new language, unfamiliar food, and a different culture? Or will they all end up feeling like the "new kid"?
Jordan, Drew, Liam, Maury, and their friends from Riverdale Academy Day School are heading out on a school trip to Paris. As an aspiring artist himself, Jordan can't wait to see all the amazing art in the famous City of Lights.
But when their trusted faculty guides are replaced at the last minute, the school trip takes an unexpected — and hilarious — turn. Especially when trying to find their way around a foreign city ends up being almost as tricky as navigating the same friendships, fears, and differences that they struggle with at home.
Illustrated Novel
Grades 4 – 6
Diary of a Wimpy Kid #18: No Brainer (available Oct 25)
Written and Illustrated by
Jeff Kinney
It's up to Greg to save his crumbling school before it's shuttered for good!
Up until now, middle school hasn't exactly been a joyride for Greg Heffley. So when the town threatens to close the crumbling building, he's not too broken up about it.
But when Greg realizes this means he's going to be sent to a different school than his best friend, Rowley Jefferson, he changes his tune. Can Greg and his classmates save their school before it's shuttered for good? Or is this the start of a whole new chapter for Greg?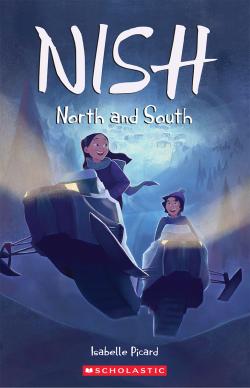 Novel
Grades 4 – 7
Nish: North and South
Written by
Isabelle Picard
The first book in Isabelle Picard's bestselling coming-of-age series about Innu twins, Leon and Eloise.
Meet thirteen-year-old twins Leon and Eloise who live in Matimekush, an Innu community in Northern Quebec.
While Leon spends all his free time playing hockey, and wondering how he can prove he has the talent to make it big in a place with no competition, Eloise works on a school project that opens her mind to the history of her people — their victories and their battles lost.
But when their father gets sick and needs treatment almost 1000 km from home, and someone from their village mysteriously disappears, the twins learn lessons about the fragility of humanity and the dangers of the land they call home.
Novel
Grades 4 – 6
Mixed Up
Written by
Gordon Korman
From the author of Restart, the story of two boys who are losing their memories… to each other.
Reef and Theo don't know what's happening to them. They'll be going about their days and then suddenly they'll have these strange flashes of memory – but the memories don't belong to them. And at the same time, their own memories are starting to… vanish.
For Reef, this is a big problem, because memories are all he has left of his mom. For Theo, it's strange because the new memories give him a freedom he doesn't have with his domineering dad.